The Postal Stationery Society Journal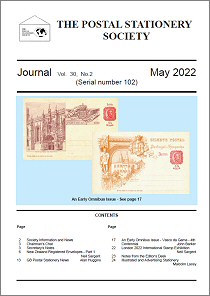 The PSS Journal is in full colour, and is issued four times a year – February, May, August and November. It includes a mix of articles, queries, news, discussions and opinions, all related to postal stationery.
The journal incorporates the Society's newsletter which keeps members up to date with the Society's activities and meetings. It also includes details of the Society's affairs and general articles of interest to all members.
It is written by members, for members and covers as many categories as possible. If you have a problem item or can answer somebody else's question then this is the place to have your say.
Do you have an item you would like to tell other members about?
Perhaps you have discovered something new in your area of interest?
Let the Journal Editor, John Barker, know. He is always happy to have articles, comments or notes about any subject related to postal stationery from across the world.